Voices from the Lost Cannon
Compiled by The Poison Oak Collective
Let's Continue!

Let's continue, free and healthy,
With a lit torch,
Stepping on the rotten society
Of these tyrants,
Of these wicked worms,
Of a moldering existence
That spreads the worn
Hopes of pain
Upon the productive town,
Making their lives mournful.

Let's abandon all fear
That is the cause of evil,
And that denies mortals
Their reason and creed:
Let's march with great courage,
With the rude gale
That removes all the evil
That kills and despairs us,
And we will crush this era
With social revolution.
-Ricardo Codesido
(La Voz De Los Tiempos, 5 de Junio, 1927)


Printed copies of Voices from the Lost Cannon are available for $10 including shipping. This edition is perfect bound and includes an introduction called Argentine Anarchism (1880-1930) By Martín Selasco.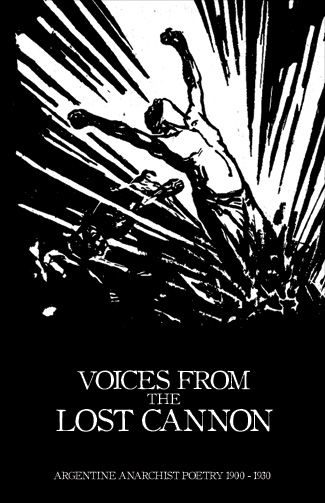 Voices From the Lost Cannon represents a belief that the poetic expressions of anarchist movements from around the world are a vital resource to the continued struggle for social justice. An artistic and intellectual tradition that has been systematically erased from history, these poems shall no longer be left to mold and decompose, but are hereby returned: shells fired by the poets of the past.
The Poison Oak Collective is a free-flowing association of individuals who are working to compile and translate anarchist poetry from around the world.